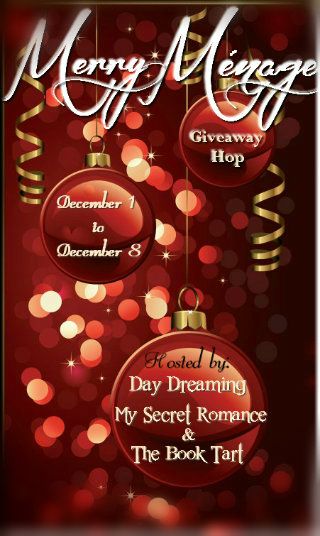 Come join our Merry Menage Giveaway Hop hosted by Day Dreaming, My Secret Romance and The Book Tart!
Need a new bedtime story to light your fire?
Looking for something with a little heat to warm you during the cold holiday season? Feel like decking the halls naughty style? Well then, come join us as we stand under the mistletoe for this wickedly sexy giveaway hop! The more the merrier! Have no worries, we'll help you trim your trees, deck yours halls, and spark that fire!
Welcome to the Merry Menage Giveaway Hop! Thanks for hosting it, ladies! I love the holiday season because my birthday's next week so I get a double bonus.I love the lights and I love the carols...which I listen to throughout November shamelessly!
And speaking of double bonuses...ahem...here's a little X-rated snipped from my m/m/f Christmas menage UNWRAPPED.
UNWRAPPED blurb: Caitlyn Sachs has a great life. A family she loves, check. An incredible design job working with her best friends, Tristan and Matt, check. An amazing home she shares with the guys, double check. But her upcoming twenty-fifth birthday and the desire to shed the burden of her virginity have spurred her to consider something shocking. All she wants is one uncomplicated night with one of her best friends, no strings attached. But how can she choose?
Except there's another problem. Tristan and Matt are already involved sexually with each other, much to Cait's shock. And both men have long harbored feelings for Cait that go way beyond friendship. When they whisk her away for her birthday to a cabin in the mountains, she discovers the extent of their lust—and her own. The gift they give her is one she'll never forget.
But when the weekend's over, will she retreat to the safety of the status quo, if they'll even let her, or will she finally embrace what she's secretly craved for so long?
"I'm only asking because it's you. Normally I'd say to hell with it and take my shot," Matt said, his voice guttural. "I want in those pants of yours, and I'm going to get there. But only if you say yes first."
To his surprise, Cait gave him a small smile and rubbed her palm over her wool-clad thigh. "I'm wearing a dress."
She paused just long enough to make him want to drop to his knees and say a loud, fervent prayer. "No." He still hadn't recovered from her answer when her smile widened. "That's a hell yes, please."
He soon found himself on his knees anyway, close enough to her heat to breathe her in. He translated the confusion on her face as he rolled up her dress, revealing her pale legs. No stockings or garters. Just pure, untouched flesh.
His mouth went dry, and he glanced up to seek her permission again. This wasn't some random girl he'd hooked up with in a bar. It also wasn't Tristan, who not only took what he dished out but served it right back up to him. This was the girl he'd loved so long, platonically and then otherwise, that he hardly remembered the years before she'd come into his life. It felt like she'd always been there. Always would be.
Trying to get himself back in line, he kissed the inside of her knee. She touched his hair, reaching down to loosen his ponytail like he'd done with hers. She brushed her fingers over the back of his neck, saying more with that one gesture than she could have with a thousand words.
I want you. I trust you. I love you.
Want to win an ebook copy of another one of my menages, NEED ME, this one NOT Christmas themed so therefore appropriate for steaming up your ereader all year long?
Just answer this question in the comments....with your email addy!
1) Who or what do you most want to find wrapped up under your tree this year? Price is no object!