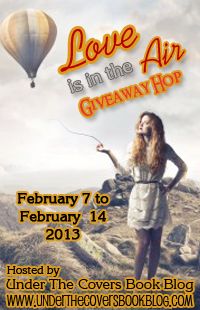 Huge thanks to Under The Covers Book Blog for having this great hop!
Happy Valentine's Day! Like my sparkly new blog digs? Lots of hearts here!
As usual, I'm behind on sending out prizes, but I'm slowly but surely getting caught up. For this hop, I'm offering a GRAB BAG of swag and other fun book related stuff to one US winner, and an ebook from my backlist to an international winner.
In honor of Valentine's Day, I'm going to share a couple of romantic lines from one of the romantic scenes in my books. Bonus points if anyone can guess which book! :)
(HINT: It's the book at the top of the left column!)
The familiarity almost broke her. His touch, his smell, the way his nose bumped hers in his urgency to seize her mouth. He took possession of her with confidence, the kind she'd found so sexy once upon a time. If she'd only tasted his skill in the kiss, she would've shoved him back and told him to go to hell. But she could sense the desperation in each conquering stroke of his tongue and every strangled groan trapped in his throat.
His teeth scraped her lower lip as he drew back, his eyes steady on hers.Wildly blue and hot with need, those eyes made her want to believe. "I love you, Alexa. You were the only thing worth risking you for. If taking back what I did means I couldn't be there to watch you succeed, I wouldn't do it."
Her head pounded, making his words rattle around like pinballs. She simply couldn't process what he'd said, not after he'd already shaken her down to her toes with that scorcher of a kiss. Her lips were still tingling. Everything was still tingling.
The sound of clapping made her glance around the banquet hall. Everyone seemed to be grinning at her and Dillon. She, the woman who was so aware of how she was behaving at all times, hadn't even noticed that they'd created a spectacle.
"Don't look at them. Look at me."
What do you have to do to be entered?
1) Leave a comment (WITH EMAIL addy please!) answering this question:
How will YOU be celebrating THIS Valentine's Day?
2) Optional: Either become a follower of the blog, sign up for my newsletter (first issue out this spring!) or Like my FB fan page at
www.facebook.com/cariquinnauthor
.
Keep hopping!